News Home & Personal Care
"How to enhance sunscreens with the help of a natural stabiliser and sensory improver"
Read the full article from Florentine Reinhardt, Sales Manager Home and Personal Care JRS

Published at COSSMA, Issue 1-2/2017 www.cossma.com
We are the winner - PCHi17 Fountain Award Category: Green / Sustainable
for VITACEL® CS 250G and VIVAPUR® CS 9FM
Congratulations to our Team from the Business Unit Home & Personal Care!
Product Details:
VIVAPUR® CS 9FM
INCI: Microcrystalline Cellulose
Effect: Absorption, Texturizing
VITACEL® CS 250G
INCI: Cellulose
Effect: Balling, Scrub
Both products are made from renewable resources. They are ecofriendly, safe and edible and are made in Germany.
For more information call our team:
0049 7967 152 473 
THE NATURAL ALTERNATIVE TO PLASTIC MICROBEADS
It is a hot topic in all media: At least since Mr. Obama, the American president, adopted the law end of 2015, it is on everyone´s lips: polyethylene in the daily life cosmetics is not only dangerous for the environment; it also is harmful for humans! 
At least since numerous detections of micro plastics in the human food cycle (e.g. in fish stomachs, honey and milk) have been made, cosmetic manufacturers are more and more under surveillance. 
Unfortunately, microplastics and microbeads are still to be found in our daily life cosmetics. The resulting damage upon environment and wildlife is a well-known fact. Due to their specific density, the beads do not sink down in the sludge but directly find their way into our rivers, lakes and oceans.

In December 2015 the law was officially adopted: Manufacturing of products containing plastic microbeads is prohibited from July 1, 2017 on. Introduction or delivery for introduction into interstate commerce is prohibited from July 1, 2018 on. (link auf Gesetzesentwurf) 
Day by day, the demand for a green alternative is getting stronger. The substitution for the PE beads is not only expected to be optically and haptically equivalent, but also should be moving in the same price range whereas being easy to process. With his range of Cellulose Scrubs offers JRS a perfect solution and THE alternative to plastic microbeads. 
With his range of Cellulose Scrubs offers JRS a perfect substitute and THE alternative to plastic microbeads. 


Direct comparison shows the advantages: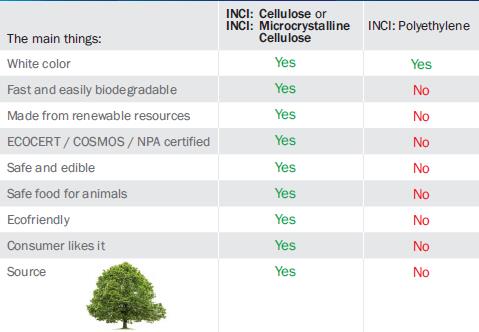 Events Home & Personal Care
In-cosmetics Korea is the only exhibition in South Korea dedicated to personal care ingredients The exhibition brings together over 200 exhibitors of ingredients, fragrances, lab equipment, testing and regulatory solutions, as well as over 6,000 cosmetic manufacturers from Korea and overseas. in-cosmetics Korea promotes innovation in ingredients and technologies , providing 100% free quality education and consumer insights for formulators, R&D and regulatory professionals.
20.07. - 22.07.2017
Coex, Seoul, South Korea
In-cosmetics Latin America: meeting point for the personal care industry.
20.09. - 21.09.2017
Sao Paolo, Brazil
Sepawa Congress and european detergents conference
18.10. - 20.10.2017
Berlin, Germany
The leading exhibition & conference in Asia for personal care ingredients
31.10. - 02.11.2017
Bangkok, Thailand
In-cosmetics Global: meeting point for the personal care industry
17.04. - 19.04.2018
Amsterdam, Netherlands